One of the very cool features of URL Rewrite Module is its integration with IIS Failed Request Tracing. When you have rewrite rules that do not work the way you expect them to work – enable Failed Request Tracing and you will get the entire history of how rewrite rules were applied on the requested URL. I use Failed Request Tracing all the time and it has proven to be a great help when debugging and troubleshooting rewrite rules.
When you enable Failed Request Tracing and make an HTTP request that you want to trace, IIS creates a trace log file frNNNNNN.xml located by default at %WINDIR%\inetpub\logs\FailedReqLogFiles\W3SVCN. This xml file references freb.xsl file that is used to render the trace data in a web browser in a human-friendly form: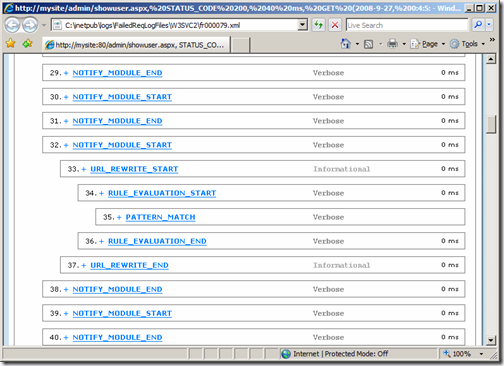 When the trace file is rendered in a web browser the URL Rewrite trace events are mixed together with all other IIS events. If trace file is very verbose it may take you some time to locate URL Rewrite specific events. Would not it be nice if there was an easier way of locating the URL Rewrite trace events other than scanning through the log file?
There is a relatively easy way to fix that. Use the link below to download the updated version of freb.xsl file and then put it into the directory where trace files are located (usually in %WINDIR%\inetpub\logs\FailedReqLogFiles\W3SVC<siteid>\). Overwrite the old freb.xsl file which was placed there by IIS. After you've done this, if you open any of the trace files, you will be able to easily locate all URL Rewrite specific events: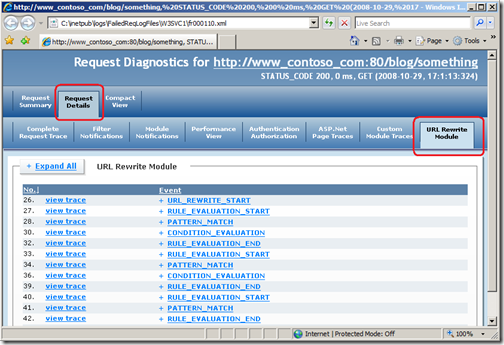 Download the freb.xsl file here:
25,269 views
ruslany on October 29th 2008 in URLRewrite
5 Responses to "Debug and troubleshoot rewrite rules easily"
Leave a Reply