Since the Silverlight Media Player plugin for WordPress was published in January 2009, it has been downloaded more than 900 times. It is being used in many web sites all over the world – here are just a couple of examples: Tribord Amure par Matthieu and Os Taekwon-do Klubb. Today, a new update of the plugin has been released. This update makes it even easier to add video content to your blog posts and pages.
Download the latest version of the plugin from here: WP Media Player.
The biggest improvement in this version of the plugin is the addition of the user interface for uploading video content and for insertion of the media player into blog posts and pages. Here is how it looks like.
Add a media player to a blog post or a page by clicking on the "Silverlight Video" button: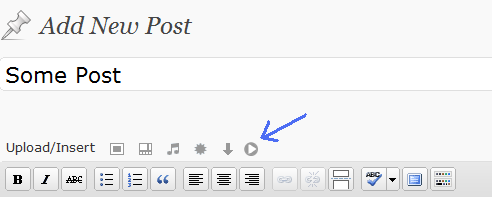 Upload a new video file or specify a URL of the video content: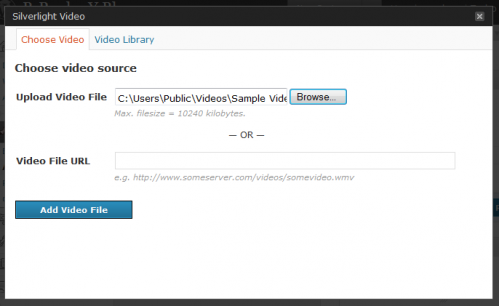 Or choose a video file from WordPress media library: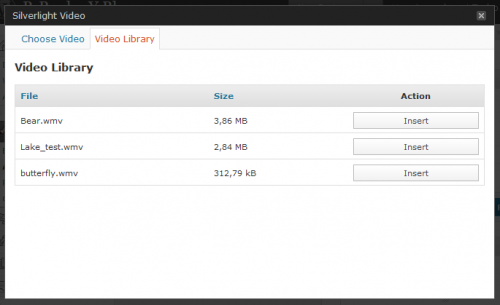 After video content has been chosen, modify media player parameters, if necessary, and then insert the media player into the post: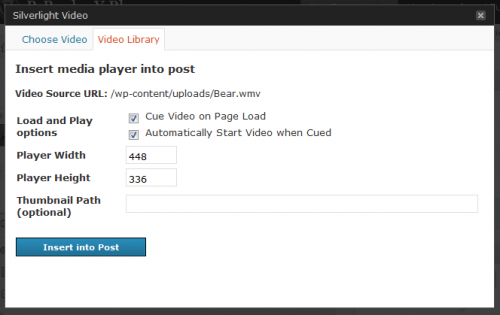 More information about the plugin can be found at the plugin homepage.
13,940 views
ruslany on April 25th 2009 in WordPress
3 Responses to "Silverlight Media Player for WordPress – Update"
slaFFik responded on 08 May 2009 at 12:23 am #

Hi! I'm using this plugin and happy with it! Thank you for your WP Media Player.

Видео: Установка форума bbPress для BuddyPress | CosyDale.com: WordPress MU и BuddyPress responded on 08 May 2009 at 12:28 am #

[...] Оказывается, самое сложное не записать видео ролик, и даже не смонтировать его, а банально найти нормально работающий видео-плейер. Я потратил на это весь вчерашний день, потому и не смог выложить 7 мая. Использовал плагин, который работает на технологии Silverlight 2.0. Беспокоится не стоит – если у вас не установлен этот пакет, то вместо видео будет ссылка на него (он всего 4 мб), после установки страница сама обновится и вы увидите видео. Кому понравится работа плагина – он называется WP Media Player. [...]

RuslanY Blog responded on 19 Aug 2009 at 11:30 pm #

New release of Silverlight Player for WordPress…

Today I have published a new release of the WP Silverlight Media Player plugin for WordPress. In addition to a few important improvements and optimizations, it contains a new feature that allows to track the number of times the video files have been wa…
Leave a Reply