Today I have published a new release of the WP Silverlight Media Player plugin for WordPress. In addition to a few important improvements and optimizations, it contains a new feature that allows to track the number of times the video files have been watched and how many of those have been watched until the end.
Once you install or upgrade to this version of the plugin you should see a new menu group in the WordPress Dashboard: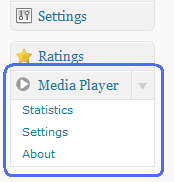 From that menu you can get to the Statistics page where you can see how many times your site visitors watched your video files: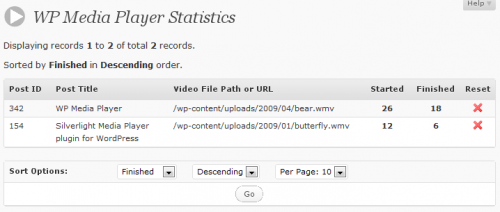 The implementation idea for the statistics page was re-used from the WP-Postratings, which is a very popular plugin written by Lester 'GaMerZ' Chan.
Other improvements in this version include:
Minified JavaScript files for the player, which will help reduce the download time;
Fixed incompatibility bug with NextGen Gallery plugin;
Complete localization support and translation into Russian (ru_RU).
Download the latest version of the plugin from the plugin page at WordPress plugin directory. To get more information about the plugin refer to the following resources:
9,181 views
ruslany on August 15th 2009 in WordPress
3 Responses to "New release of Silverlight Player for WordPress"
DotNetShoutout responded on 16 Aug 2009 at 3:53 pm #

New release of Silverlight Player for WordPress – Ruslan Yakushev…

Thank you for submitting this cool story – Trackback from DotNetShoutout…

Install Museum » Blog Archive » Silverlight Player for WordPress responded on 19 Aug 2009 at 8:15 pm #

[...] Silverlight Player for WordPress [...]
Leave a Reply