PHP Manager is a tool for IIS 7 that greatly simplifies installation, configuration, management and troubleshooting of PHP in IIS. A beta release of the tool has been published a month ago and since then it has been downloaded nearly five thousand times. Today I am releasing the final stable build of PHP Manager 1.0 for IIS 7, which includes new features and fixes for the bugs reported in the beta release.
Both x86 and x64 builds of PHP Manager 1.0 for IIS 7 can be downloaded from the project's page at codeplex.com:
http://phpmanager.codeplex.com/releases/
Note: if you already have the beta release installed then it will be upgraded when you install the final build of PHP Manager 1.0 for IIS 7.
PHP Manager 1.0 can be used to:
Register PHP with IIS;
Validate and properly configure existing PHP installations;
Run multiple PHP versions side by side on the same server and even within the same web site;
Check PHP runtime configuration and environment (output of phpinfo() function);
Configure various PHP settings;
Enable or disable PHP extensions;
Remotely manage PHP configuration in php.ini file.
The most important feature introduced in this release is the validation and optimization of existing PHP configurations on IIS. When you install PHP Manager 1.0 on IIS server that already has PHP installed and configured, the PHP Manager will analyze the IIS and PHP configuration settings and will inform you if any of those are not set to recommended values: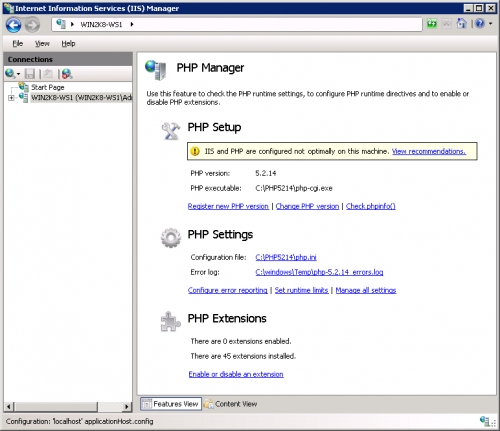 Once you click on "View Recommendations" link you will see the list of settings with the description of what's wrong and what a recommended corrective action should be. You can choose to apply some or all of the recommendations: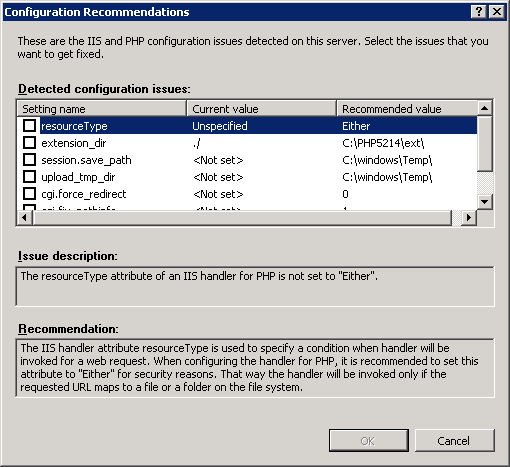 Other significant changes and bug fixes included in this release are:
Support for running different PHP versions within the same web site;
Functionality to set IIS default document to index.php;
Links to quickly open php.ini file and PHP error log file;
Detection of PHP registered via CGI or ISAPI;
Detection of PHP that is registered by using command line arguments in IIS handler mapping.
Thanks to all who have tried the beta release and provided feedback and bug reports!
7 Responses to "PHP Manager 1.0 for IIS 7 – stable release"
Leave a Reply