WP Media Player is a Silverlight based media player plugin for WordPress. It is used for playing self-hosted video files as well as for videos hosted on external video servers, such as for example Silverlight Streaming. The plugin has the following features:
6 player styles
Watermark Image
Tracking and reporting on how many times the videos have been watched
Default player configuration settings, such as size, thumbnail, auto load and auto play.
Per-instance player configuration settings that can be used to customize each individual player within or across blog posts.
Unlimited number of players within the same blog post or page.
The UI for video uploading and selecting of media files that is fully integrated into the WordPress post editing UI.
Some of the sites that use the plugin:
Here is an example of how plugin works:
Installation
Download the plugin from this location:
The plugin has been tested on WordPress versions from 2.5 up to 2.7.1. Once you downloaded the plugin files follow these steps to install and configure it:
Step 1: Upload wp-media-player directory (including all files and directories withing) to the /wp-content/plugins/ directory. Make sure that the path to the main plugin php file is /wp-content/plugins/wp-media-player/wp-media-player.php. If path does not look like this then plugin may not show up in the WordPress plugins page.
Step 2: Activate the plugin through the 'Plugins' menu in WordPress.
Step 3: Use the "Media Player" menu group to configure and manage the plugin: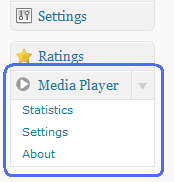 Usage Instructions
The plugin is very easy to use. Follow these three simple steps:
Step 1: Click on the "Silverlight Video" button: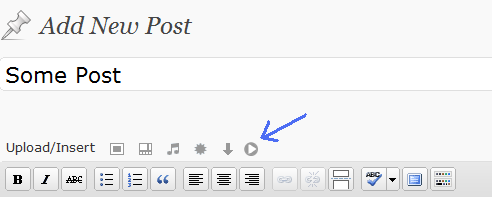 Step 2: Choose video file to upload or a URL with a video content (note: video must be in WMV format)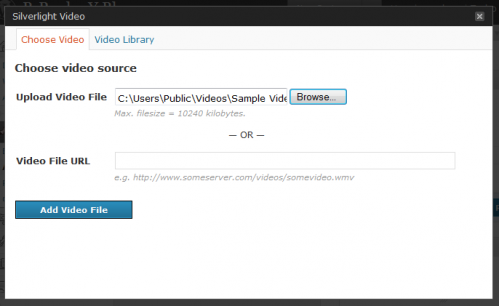 Step 3: Insert the video into a blog post or a page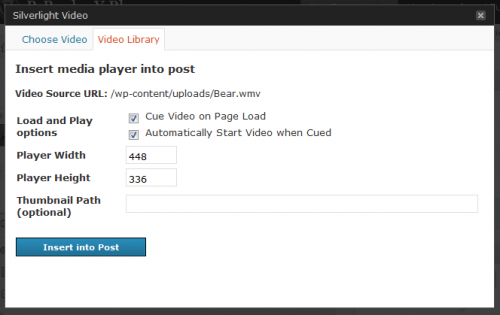 Encoding Video Content
Since the player is Silverlight-based, it requires that the video file is encoded by using Silverlight-friendly parameters. It is recommended to encode the video content by following the instructions at WP Silverlight Media Player – Video Encoding.
Getting the Media Player Statistics
To check how many time the video files have been watched and how many of those have been watched until the end use the "Media Player Statistics" page: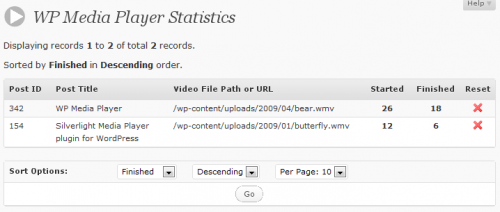 Comments and Feedback
Please leave your feedback and report any issues with the plugin by submitting comments to this page. Before submitting the question please check the existing comments on this page as your question may have already been answered.
Donations
The plugin is absolutely free, but if you like it, you may want to consider making a small donation:
Thank You for using the WP Media Player plugin!
Sub Pages List
71 Responses to "WP Media Player"